Welcome to CNAclassesnearme.com. This site is designed to help aspiring CNAs find both paid and free CNA training in their local area. Please browse our state by state list of CNA classes to find training near you. In most states, in order to be eligible to get listed in your state's CNA Registry, candidates must successfully pass the state's CNA exam. We've developed practice tests based on the types of questions found on the CNA written exam and assembled six unique CNA practice tests. Each free CNA practice test has all the required sections and the correct number of questions per section. Each test has unique questions so you will not find any repeats between the tests. Additionally, each test is timed to create the most realistic testing scenario possible. Feel free to take these tests as often as needed as you prepare!
Nurse Aide Practice Test #1
Nurse Aide Practice Test #2
Nurse Aide Practice Test #3
Nurse Aide Practice Test #4
Nurse Aide Practice Test #5
Nurse Aide Practice Test #6
CNA Category Practice Questions
The entire CNA exam is composed of nine separate categories which test:
Basic Nursing Skills
Activities of Daily Living
Member of the Healthcare Team
Communication
Restorative Skills
Client Rights
Spiritual and Cultural Needs
Emotional and Mental Health Needs
Legal and Ethical Behavior
You will find practice questions devoted to each of these individual subjects below. Choose a category and get practicing!
Activities of Daily Living
Member of the Healthcare Team
Spiritual & Cultural Needs
Emotional & Mental Health Needs
Find Tuition-Based and Free CNA Classes in Your Local Area
The first step in becoming a certified nursing assistant (CNA) is to find a program that can help you earn your CNA certification. There are many ways to go about gaining your license, as most areas offer local CNA classes free of charge if you're willing to sign up to work with the organization after you complete your program. Oftentimes, these offers come from nursing homes and can help you fast track your way through training for free or at least at a reduced price that many CNA schools can't provide. However, if that's not the case in your area, there are still plenty of options including American Red Cross CNA training or paid CNA training courses at local community colleges or job training centers.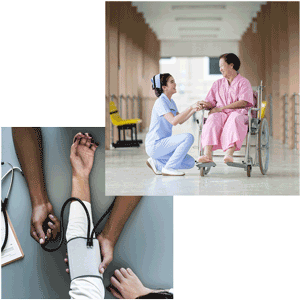 "How do I find CNA programs near me?"
As you research your career options you may find that training programs aren't available locally, which is a challenge for many job seekers. Fortunately, we've assembled a huge list of local CNA classes across the country to help you find the program that's the best fit for you. Browse our exhaustive list of CNA training programs in your state, or if you need more options, you can also find a huge list of locations on our sister site that offer free CNA classes.
What happens after I earn my CNA certification?
The possibilities are virtually endless once you've earned your CNA certification, though there are a few hoops to jump through before you can officially place your new job title on your resume. Nearly every state has some basic requirements for becoming a licensed CNA. These include:
High school diploma, GED, or equivalent

Successfully complete a background check

Proof of immunization

A valid ID
However, there can be some unique items outside of the basics that you'll need to take care of before and during your journey as a nursing aide. This can include additional costs for materials, the application process, and the actual CNA test, costs for continuing education, and more. It can be worth talking to your state's nurse aide registry or speaking to someone working as a CNA locally to make sure you know all the ins and outs of your local area before you dive in too deep.
Career paths for CNAs
While being a CNA in and of itself is a rewarding career with the chance to work directly with patients, make a solid living, and receive healthcare and benefits packages, many people use their CNA jobs as a springboard to more career opportunities in the healthcare industry. A CNA salary can ramp up over time, but there's definitely a ceiling on what you can earn in the position. There are programs available in many areas that help people move from a CNA to an LPN (licensed practical nurse) or move from a CNA to an RN (registered nurse). Follow the links to learn more about those opportunities or take your time and explore this site to see all the options available to a licensed nurse aide once you've completed a nursing assistant training course near you.