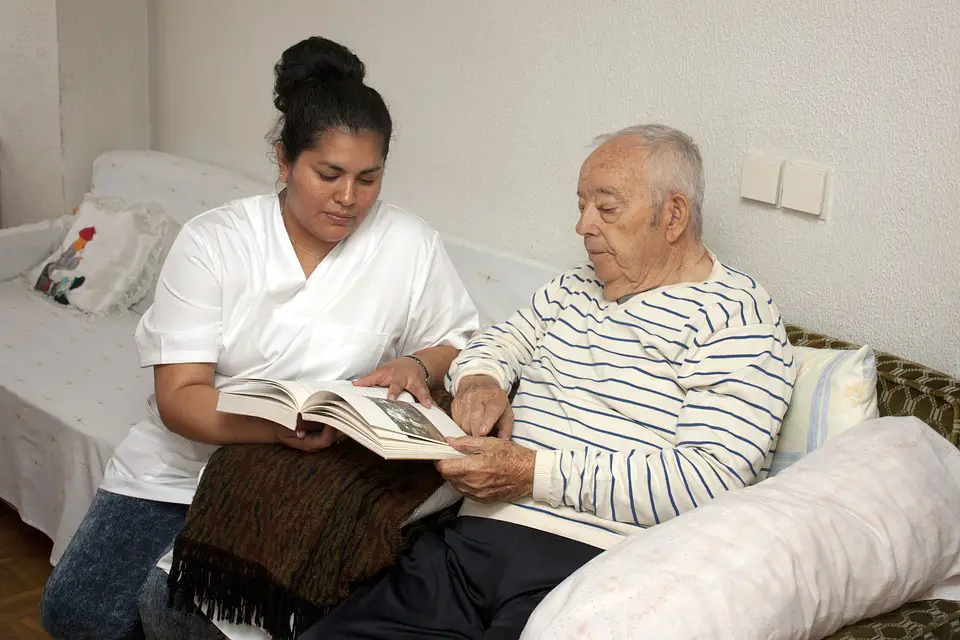 If you are looking to crack into the healthcare industry with your first job, you may be curious about how to become a nursing assistant or a CNA. We'll walk you through everything you need to know about the position and what it takes to become a CNA in the United States.
What is a CNA?
A certified nursing assistant is a member of a healthcare team at hospitals, nursing homes, and other medical care and research facilities. Responsibilities of a CNA include things like:
Bathing patients

Dressing patients

Taking vital signs

Assisting patients with eating

Repositioning bedridden patients
In many locations, the CNA is the main caregiver for clients and patients. Depending on the CNA's level of experience they may also administer patients' medication and deal with business and medical technology like patient tracking and charting software. CNAs work under the supervision of more highly trained nurses such as LPNS or RNs.

How does a CNA compare to other nurses?
CNAs are basically entry-level positions on a healthcare team, and as such, CNAs work under the supervision of more experienced nurses like LPNs (licensed practical nurses) and RNs (registered nurses). Let's compare some of the differences between these different positions. 
CNA vs. LPN
To become an LPN, a person typically must complete at least a 12-month program. CNAs, on the other hand, can typically gain their certification in as little as 4-12 weeks. The level of detail and hands-on instruction is much higher for an LPN than a CNA, as it goes into greater detail as far as ethical issues, dosages for medication, etc. Of course, with greater responsibility comes greater reward, as LPNs on average make substantially more in salary than CNAs.
CNA vs. RN
In the hierarchy of a healthcare team, CNAs report to an LPN or an RN, and if all three work together, the LPN reports to the RN. RNs have to earn a BSN (bachelor's of science in nursing) or an associate's degree in nursing. The quickest path to become an RN takes two to three years, and CNAs have vastly greater responsibilities like working with physicians on patient treatment plans, wound care, performing physical exams, and educating patients and their families. Again, with greater education and responsibility, comes greater pay as average RN pay is much greater than even LPNs.
According to the Bureau of Labor Statistics, the average pay for each position can be seen below:
Nursing Assistants (CNAs) – $36,220

LPNs – $48,070

RNs – $77,600
Learn about how a CNA can become an LPN or RN.
What are the requirements for becoming a CNA?
To become a CNA there's a basic checklist that all applicants will have to meet to be considered for a job. The general requirements include:
Having a high school diploma or GED

Completion of a CNA class that's accredited in your state

Passing your CNA written and skills exam

Achieving all necessary certifications and health requirements. This can include a physical, passing a background check, passing a tuberculosis test, providing immunization records, and having a CPR certification

Applying for and receiving your CNA license
The process of becoming a CNA
While each state across the country has a different protocol to become a CNA, most states follow a similar path. CNA candidates will have to complete state-certified CNA classes. These programs are typically provided by a community college, health care institution, technical career center or the Red Cross. Education programs generally constitute two modules – a classroom module and a clinical module. The minimum number of hours for the classroom session depends on the state, but the minimum number of hours is usually around 60 with some states requiring 100 or more with the clinical module consisting of a minimum of 12 to 20 hours.
Once these hours are completed, a CNA candidate must successfully pass a CNA examination, and the specifics of the test can vary depending upon your state and provider (more on that here). The CNA exam has two sections, the written portion and the CNA skills test. 
To become a CNA you'll need to pass both sections. These tests are generally administered by a third party provider who handles the exam questions, scoring and facilitation. Typical third party providers include Pearson Vue, Prometric, Headmaster, and the Red Cross. Candidates are tested on basic skills that are covered in CNA training programs such as hand washing, patient care and patient nutrition. The cost to take the exam tends to range from about $70 to $150 depending on the state. 
CNA program options
While most areas of the country make finding a CNA class near you relatively easy, some people require the flexibility of online courses to fit their schedules. Regardless of which avenue you choose, you'll need to achieve a certain number of clinical hours before you can move on to your CNA certification exam. That means if you take an online course you will still need to put in a certain number of hours at a physical location to complete your program successfully. Now let's look at some of the pros and cons of online CNA classes versus in person programs.
In person CNA programs
Pros
More personalized instruction

Provides a more traditional learning environment if you're used to a standard classroom

Stricter structure and schedule to keep you on track

Ability to meet and socialize with other students – helpful when looking for study partners or practicing for the CNA skills exam
Cons
Far less flexibility. If you have a family or another job that fluctuates, the strict class schedule can be problematic

Time and travel commitments can prove problematic if you have limited options for transportation
Online CNA programs
Pros
Learn at your own pace and on your own schedule

Great for independent learners
Cons
Difficult for people not used to online learning

Lack of a teaching resource to assist when you have questions or need assistance

No social aspect. Having other students around can be helpful to share ideas and assist with studying
CNA license and certification process
Once exams are passed, a candidate will register or submit their information to that state's board of nursing or the state's nurse registry. Staying in good standing and with a state's registry requires that a CNA renews their certificate every 24 to 36 months. In addition to renewing the license, most states require that CNAs complete 48 hours of continuing education every two years. Your state nursing board can provide you with the latest requirements for maintaining your license, and oftentimes your employer will help pay for the cost of continuing education. 

Who employs CNAs?
When most people think of a CNA they think of their working environment being a nursing home. However, that's just the tip of the iceberg for the employment possibilities for a CNA. Other popular organizations that hire CNAs include:
Hospitals

Home health service companies

Long term care facilities

Government facilities (ex. prisons)

Private health practices (ex. urgent care clinics)

Independent contractors – working for multiple doctors, sometimes referred to as "traveling CNAs"
Career path and pay
With an average pay for a CNA of $36,220, or about $17.14 per hour, becoming a CNA is not as lucrative as other nursing positions. However, CNAs are certainly in demand and the cost and time commitments to become a CNA are relatively low. Becoming a CNA will allow you to secure stable employment nearly anywhere in the country. 
That average pay number can be deceiving as well, as the high end and low end of the pay scale can vary dramatically depending on which state you live in and where you end up working. In states like Alaska, CNAs can make $40,000 or more. Government jobs also tend to pay better, as well, so it makes sense to apply to a variety of different employers before accepting a job immediately, as the pay difference could be thousands of dollars.
Many people who become CNAs use it as an opportunity to springboard into other positions in healthcare. There are bridge programs designed to help CNAs become LPNs and RNs. Other CNAs take their experience and use it to become medical assistants or move into supervisor or management roles in home healthcare businesses or nursing homes. As an entryway into the healthcare industry, becoming a CNA can open lots of doors to exciting career options.